Penumbra is a group of select IBM Business Partners who pool technical resources and management skills to create an ideal IBM Software provider network. We offer the competence and breadth of much larger companies at a lower cost. In addition, we deliver the full attention of our principal professionals to each project.
Currently Penumbra member companies worldwide provide a full range of IBM Collaboration Solutions services to millions of licensed users at hundreds of customer sites, covering IBM Notes & Domino, IBM Verse, IBM Connections, IBM Sametime and IBM WebSphere. Our members' clients are located worldwide, across all industries and sectors.
Each year on the eve of IBM Connect(ED) (formerly Lotusphere), in Orlando FL, USA, the Penumbra Group hosts a dinner for our members and for invited guests from IBM. We are always very pleased to be joined by IBM's top executives and many others.
The Penumbra Prism Award is presented annually in recognition of people who have made an outstanding contribution to partnering with IBM Business Partners, or to the wider IBM community, or to Penumbra itself.
Our present and past winners are
2015: Ray Ozzie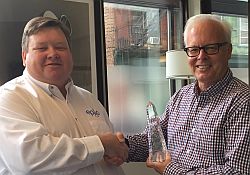 Congrats Ray Ozzie, who was awarded the 2015 Penumbra Prism for
"Lifetime Achievement Award for Development of Exceptional Software"
Many might not be in this current position if he did not accomplish what he did over 25 years ago!
Theo Heselmans, Penumbra Chairman, announced the winner at the annual Penumbra Group dinner in Orlando on Saturday 24th January 2015
2014: Niklas Heidloff
Congrats Niklas Heidloff, Software Architect, who won the 2014 Penumbra Prism award for "Outstanding Dedication to the ICS Business Partner Community". The award was presented at the annual Penumbra Group dinner in Orlando on Saturday 25th January 2014. Lisa Duke, Penumbra Chairwoman, handed over the award to Niklas.
---
2013: Joyce Davis
Community Manager
Outstanding Dedication to the ICS Business Partner Community
2012: Susan Bulloch
Support Engineer
Outstanding Dedication to the IBM Lotus Business Partner Community
2011: Andre Guirard
Technical Solution Architect
For Outstanding Dedication to Business Partners
2010: Maureen Leland
Domino Designer Architect
For Outstanding Dedication to The Lotus Business Partner Community
2009: Debora Cole
Channel Marketing Manager
For Outstanding Support and Dedication to Business Partners
2008: Kevin Cavanaugh
Vice President IBM Lotus Software
For Outstanding Support and Dedication to Business Partners
2007: David Stephens
For Outstanding Support and Dedication to Business Partners

2007: Alan Lepofsky
For Outstanding Support and Dedication to Business Partners
2006: Katherine Emling
For Outstanding Support and Dedication to Business Partners
2005: Ragan Folan
For Excellence In Lotusphere Session Programming
2004: Barbara Bowen
For Outstanding Provision Of Professional Certification

2004: Sandra Marcus
For Excellence in Conference Production
2003: Ed Brill
For Brilliant Partner Marketing/Competitive Intelligence

2003: Gloria Flaherty
For Excellent Partner Technical Support